Melati Halal-certified Skincare
"Melati" means "jasmine" in Bahasa Indonesia, a high-scented cute white flower. In Indonesia, melati is not only known as national flower, but also regarded as a symbol of sincere and pureness. Based on this idea, Melati Halal Skincare has been born to reflect the sincere and pureness of Muslim women.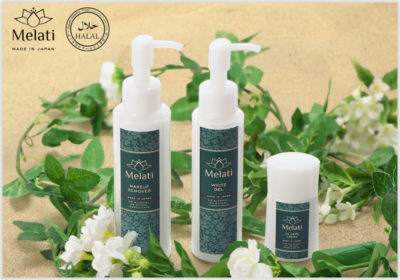 Melati is a natural skincare enriched with Coix-lacryma-jobi ma-yuen seed (or popular with "hatomugi" in Japanese) extract that has action to generate new skin cell, moisturize, and anti-inflammatory action, to promote smoother skin and prevent skin trouble. Available in 3 items ; Make-Up Remover, White Gel, and UV Care Cream, all items are Halal-certified by Japan Islamic Trust, Tokyo. Of course, it is free from alcohol and animal-derived-ingredients.
Especially, Melati commit with "made in Japan" to deliver the best quality of Japanese skincare to Muslim women.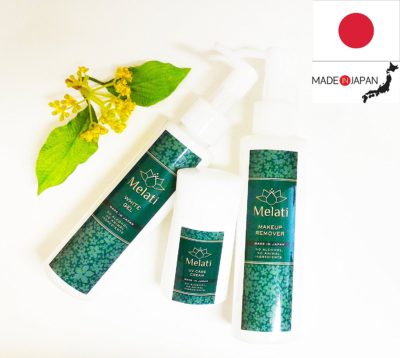 Melati Halal Skincare Line Up
Melati Make-Up Remover
Melati Make-Up Remover has white and soft gel. By put suitable amount to a cotton and wipe it to the face, it gently removes make up and dirt. The gel is very soft and mild to the skin! No need to wash off after application, simple and quick!
(No active agent is used)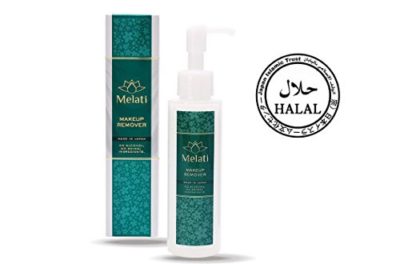 Melati White Gel
Melati White Gel is face lotion – emulsion – essence in one, available in soft white gel with excellent blend, easy to be applied to the whole face, and quickly absorbed to the skin. It has plenty of moisture to promote supple and moisturized skin. After cleanse the skin with Melati Make-Up Remover, apply suitable amount of Melati White Gel to deep moisture the skin.
Melati UV Care Cream
Melati UV Cream has micro capsule to prevent and protect the skin by effectively absorb UV rays. As it has anti-inflammatory formulation, those with sensitive skin no need to worry to use it!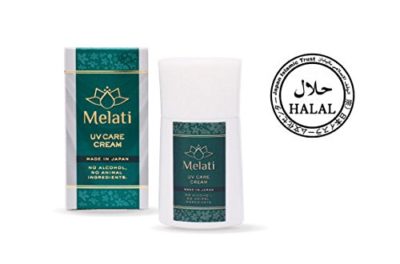 Melati Skincare has been reviewed by a Malaysian blogger
Melati Skincare Review
Get soft and smooth skin with Melati Halal-certified Skincare!
Inquiry:
http://greato.co.jp/melati/eng/
How to purchase:
Through Melati official FB page and Instagram
Official FB 「Melati Japan Halal Skincare」
Official Instagram「@melati.halalskincare」
2-5-5 Shinsaibashisuji, Chuo-ku, Osaka
Opening hour:10:00-22:30
TEL:06-6211-6307
1-7-1 Shinsaibashisuji, Chuo-ku, Osaka
Opening hour:10:30-21:00
TEL:06-6241-0001
3-17-12 Sakae, Naka-ku, Nagoya, Pref. Aichi
Opening hour:9:00-22:00
TEL:052-249-8790
Kazuarudou
Shinjuku Le Ponte Bldg B1-A 1-14-2 Jingu-mae, Shibuya-ku, Tokyo
Opening hour:10:00-19:00
TEL:03-6721-1880
1-2 Sumiyoshi, Hakata-ku, Fukuoka
Opening hour :9:00〜22:00
TEL:092-262-0707
1-7-23 Higashi Shinsaibashi, Chuo-ku, Osaka
Opening hour:11:00-22:00 
TEL:06-6281-0133
Address

2-14-1 Kojimachi, Chiyoda-ku, Tokyo 〒102-0083

TEL

03-3265-6636 (Japanese Only)

FAX

03-6272-4123

Homepage
The post MELATI, Halal-certified Skincare Dedicated to Muslim Women appeared first on Halal Media Japan | Latest halal news, travel guides & maps of Japan.