H.I.S is selling packages for Umrah from Tokyo!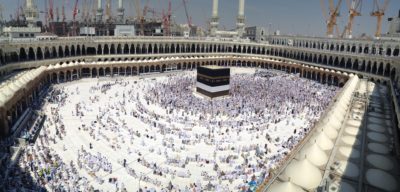 It seems that many Non-Muslim people have hardly heard of "Umrah".
In Islam, there are 5 pillars for deed and 6 pillars for faith to be necessarily observed. Of 5 pillars for deed, pilgrimage is known as Hajj. Hajj is usually completed to go to Makkah within the specific dates while Umrah does not have the specific dates for pilgrimage.
Umrah Package from H.I.S.
Now, H.I.S. is handling Umrah tours from Japan and apply Umrah visa on behalf our costumers. This package covers things written below.
-Air ticket by Etihad Airlines accommodation 3 nights Madina & 3 nights Makkah ( near 4★ hotels from Haram )
-Transportation inside Saudi according to the program
-Ihram clothes for men
-5 litres ZamZam water
-Sightseeing in Madina and Makkah
-Umrah visa
-Breakfast (total 6 times)
-Fuel surcharge
-Shoulder bag present
-Escort with experienced guide ( Japanese , English )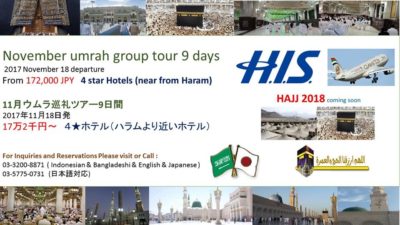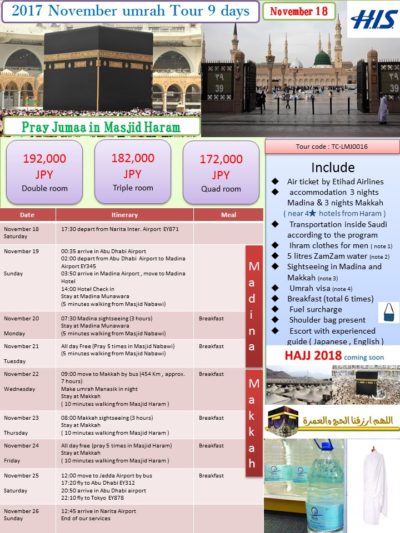 Any other details can be seen below. Please check it out.
2017 November umrah group
For inquiries or pursuit from the number here.
+81-3-3200-8871(Indonesian, Bangladeshi, Japanese&English)
+81-3-5775-0731(Japanese)
The post H.I.S is selling packages for Umrah from Tokyo! appeared first on Halal Media Japan | Latest halal news, travel guides & maps of Japan.