Halal Underground at Ameyoko Center Building
By : FARID PUTRA
Ameyoko Center, an old building between Ueno and Okachimachi area that has been there for a very long period of time. If you read the passages from their official website, the building itself is already standstill around the end of World War II era, and it was being rebuilt again and officially operating under the corporate name 'Ueno Shinko' KK since April 1946. Do not be surprised, but on this building, you could find quite a lot of halal products in form of processed food and drink, frozen packages, and fresh spices or vegetables.
On the underground of this building, there is traditional Asian market which sells almost everything, especially for Asian dining ingredients, that are so difficult to get on normal supermarket or convenience store in Japan. It is called 'Ameyoko Center Market' or 'Chika Shokuhin Gai' in Japanese. This place is full of crowd of Asian people, mostly Chinese and South East Asia countries people such as Indonesian, Malaysian, Philipines, almost every day.
You will notice a unique mix of smells start from the time you are entering the market. The scene in this market is so dynamic, a lot of sellers energetically offer fresh stuffs they are selling such as fish, the chicken feets, and variety of spices, canned foods, instant noodles from South East Asia, chili sauces, sweet soy sauces, etc.
On this underground market, there is a shop called "Arai Shouten", located in the corner of the market where we can find some great deal of halal products there, such as 'Paratha', a type of flat-bread that originated in the South Asia such as India, Pakistan, and Burma.
It seems like a Malaysian 'Roti Canai' in some aspect of texture and flavor. Besides Paratha, you also can find chicken sausages which is available in cheese and original flavor. It costs JPY 650 for sausage and JPY 350 for paratha per package. By combining these halal products with some veggies such as grilled asparagus, carrot, and broccoli, doesn't it suitable for dinner menu tonight?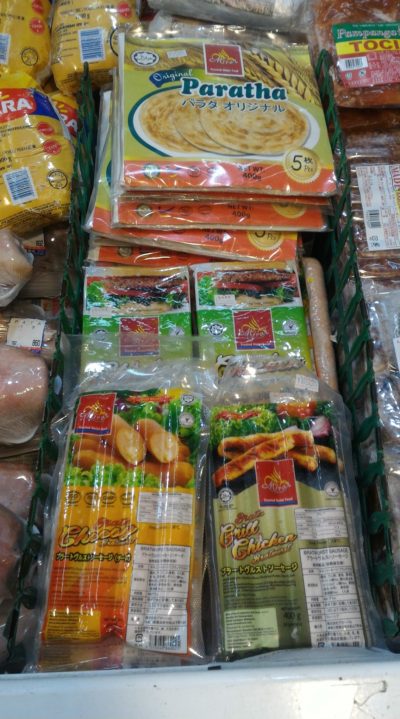 There you also could find some canned coconut milk with halal signature 'Haokoh' brand.
Last but not least, there is a shop called "Nozawa-ya" that is located nearby the elevator and offering a lot of fresh and frozen red or green chili, a must-have-item for those who love spicy dishes. Its "Super Hot Red and Green Chili" available with halal mark and cost JPY 1,000.
It was really fun experience going around to this hidden underground market. Although it definitely makes your carry-on stuff heavy on the way home. Ameyoko underground market is one of recommended place to be halal alternative shop in Tokyo, especially for those who live around Ueno or Okachimachi area.
About Ameyoko Center Building Floor Map
The post The Halal Underground at Ameyoko Center Building appeared first on Halal Media Japan | Latest halal news, travel guides & maps of Japan.