Halal All You Can Eat Buffet Options
Writer: Rahmania Radjadi (www.rahmaniaradjadi.com)
If you are a huge fan of all you can eat restaurants, you must be feeling disappointed as I am if you are living in Japan. Japan has a huge number of all you can eat restaurants (食べ放題), in Tokyo alone, you can find all you can eat restaurants easily. But, what makes me disappointed is most of them are not halal! Only few is halal that I could count with my fingers.
The other thing that draw a sad emoji on my face about halal all you can eat restaurants is not only that it's not much of an options but also some of them doesn't give that much of satisfaction either by the food taste, price, and the restaurant location. In my mindset an all you can eat restaurant must have a really delicious food because as you know that the price of having lunch or dinner in all you can eat restaurants will not be cheap.
Today, I will give a very good one example of an all you can eat restaurant in Tokyo that not only offers halal food options but also will give you satisfaction with the delicious food they have and the view from the location is so beautiful.
That is the name of the restaurant. It's location is in Odaiba, Tokyo. I have been visiting this restaurants for couple times and I had never feel any disappointment when I walk out from it. The food is delicious, the place is clean, the service is great, and the view during dinner time there is fascinating. The restaurant itself is a family restaurant.
The number of halal food variations is much. You could have teriyaki chicken, tandoori chicken, roast beef, rotisserie chicken, various types of fried chicken, various types of potatoes menu, great salad options, halal taco option, fried onions, rices and noodles, delicious desserts and fruits.
You also could have various options of drink start from water, teas, coffees, much options of soda, and hot chocolate. They offer cakes, chocolate fountain, and fruits for desserts.
The restaurant has many seats and you can choose to seat inside or outside in the balcony with the view of the beautiful rainbow bridge with the duplicate of liberty statue. You can imagine how beautiful they are during the night with the lights on.
The service in this restaurant is great, the servers are friendly, hospitable, and agile. Even if they have loads of dishes in their hand to be delivered to the kitchen they still will help you happily.
The price is just perfect, it's not expensive with delicious food and the great service they offer. Prices for lunch time are ¥1830 for adult, ¥1270 for student, ¥550 for kids, and free for under 3 year old kids. Prices for dinner are 2500 for adult and the same for student and kids.
If you never visit The Oven I totally recommend it to you. You should experience the great combination of delicious food and a beautiful scenery there. I hope you enjoy it as I do!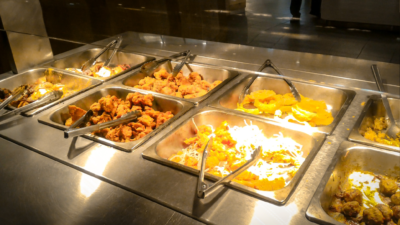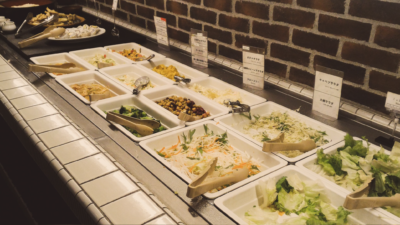 THE OVEN American Buffet
Address

Aqua city Odaiba 6F,1-7-1, Daiba, Minato-ku, Tokyo

OPEN

Mon-Fri Lunch: 11:00 – 16:00(L.O.15:00), Dinner: 17:00 – 23:00(L.O.22:00)
Sat,Sun,Holiday Lunch: 11:00 – 16:55(L.O.16:00), Dinner: 17:00 – 23:00(L.O.22:00)

Halal Gourmet Japan
Related Article
The post Halal All You Can Eat Buffet at "THE OVEN American Buffet" appeared first on Halal Media Japan | Latest Halal news, travel guides & maps of Japan.