Easy and Delicious Recipe at Home
Writer: Rahmania Radjadi (www.rahmaniaradjadi.com)
Since I came to Japan, I rarely found Italian restaurant that have halal option on their food. Many ingredients they use is not halal such as lard, pork meat, bacon, and wine. This situation pushes me to always cook my own Italian food like spaghettis, lasagnas, risottos, pastas, pizzas and the delicious panacota (I still learning how to make pizza and panacota). If you like italian food, you must be agree with me that Italian food has this distinctive flavor which is delicious and addictive.
In this article, I want to tell you one recipe that my family love which is a mixed between Italian and American which is Spicy Cajun Shrimp Spaghetti. Cajun food are from Lousiana and Missisipi. The Flavor comes from Cajun food usuallu spicy, rich of flavor, and really, really good! For people who love spicy food, the most probably will love Cajun food. I usually make my own Cajun spice mix and store it in a jar so that I could use it whenever I need it. I will tell you the recipe on how to make it too,
of course!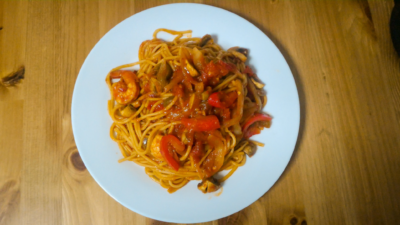 Cajun Spice Mix Ingredients
4 tablespoons of salt
4 tablespoons of paprika powder
4 tablespoons of cayenne powder
4 tablespoons of garlic powder
4 tablespoons of ground black pepper
2 tablespoons of oregano
2 tablespoons of thyme
2 tablespoons of granulated onion
Mix all the Cajun spices until all combined well and store it in a jar.
Spicy Cajun Shrimp Sphagetti Ingredients (4 Servings)
500 grams of large shrimp (skin and tail has removed)
Olive oil
3 tablespoons of Cajun spicy mix
Half Onion
1 Red bell pepper (large paprika)
1 teaspoon of brown sugar
1 teaspoon of paprika powder or smoked paprika powder
1 teaspoon of dried paprika
2 cloves of garlic
1/2 cup crushed tomatoes
3/4 cup chicken broth or shrimp broth
1 teaspoon of Worcestershire sauce
salt
pepper
chopped parsley
spaghetti noodle
Cooking instructions
Use a medium-large size pot to boil the spaghetti noodle, add salt to the boiling water and add the pasta (usually 6-8 minutes for aldente)
Coat the shrimp with 2 table spoon of cajun spice mix
Heat a skillet with medium high heat, pour about 2 table spoon olive oil
Add the shrimp into the pan, cook for about 4-5 minutes until it start to curl. After done set the shrimp aside
Add 2 more tablespoons to the skillet then add chopped onion, sliced bell pepper, smoked paprika powder, thyme, rest of the Cajun spice mix, brown sugar, and 1 tablespoon of salt
Saute it until the onion is browned then add garlic until fragrant
Add tomatoes, chicken/shrimp broth, and the Worcestershire sauce then stir it until simmer
After simmering, add the boiled pasta then mixed it well(if it became too dry, add the broth again)
Add salt and pepper (adjust the taste)
Add the shrimp and mix it well again
The spaghetti is ready, serve it with a sprinkle of a pinch chopped parsley on top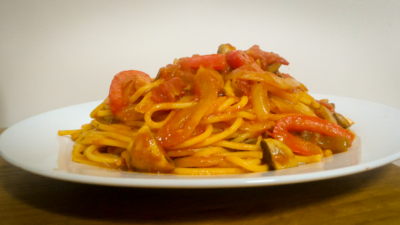 You could also add heavy cream if you prefer a creamy version of this recipe. Also add white mushroom and chicken sausage if you like.
This recipe is so easy, you should try it at home, I hope you enjoy it!
Related Article
The post Spicy Cajun Shrimp Spaghetti Recipe appeared first on Halal Media Japan | Latest Halal news, travel guides & maps of Japan.