Magical world in Arashiyama Area!
Written by Mufiedah Hadi
As you may know, Arashiyama is one of the famous place in Kyoto. Arashiyama is well known for its bamboo forest. However, Arashiyama is more than that.
First, I'll tell you about the access to get there. They have many access to get there, I choose to take the Subway. Make sure that you take Sakaisuji Line Subway that bound for Kawaramachi. I take Subway from Doubutsuen-mae and then switch line once at Katsura Station. You have to switch train that is bound for Arashiyama. Arashiyama is the last stop.
From Doubutsuen-mae it takes you approximately 1.5 hours so I suggest you to come as early as you can. If you come around 9 or 10 am, it's just the same as the other visitors. As a result, you'll ride a train packed with people.I arrived at Hankyuu Arashiyama Station around 10 am, so yeah it's packed with people. You can find this kind of map attached on the wall at the Hankyu Arashiyama Station.
I went to Kameyama Park by walking. You're also able to rent out a bicycle if you want. There are plenty of sign board that shows you the direction around Arashiyama area, or you can just use maps application in your phone if you want. When you entering Arashiyama area, they also provide you with the map of Arashiyama area that you can take along. Don't worry because the maps are also available in English.
To reach Kameyama Park you have to do a little hiking, so be careful and watch your step. I suggest you to go via the bamboo forest. After passing the bamboo forest, you can follow the diection to "Observatory Deck".

At Kameyama Park they also have this kind of rest area. You can do the prayer here, and they also have the toilet nearby. You have to go to the Observatory Deck to get the best view of Oi River.

See! It's super magical just like the magical world in the movies! It's even more beautiful in real life!

They also have benches, so you can sit if you're not ready yet to continue your journey. You can take the stair to go downstairs and walk right beside the river. The staircase is really steep, so please be careful.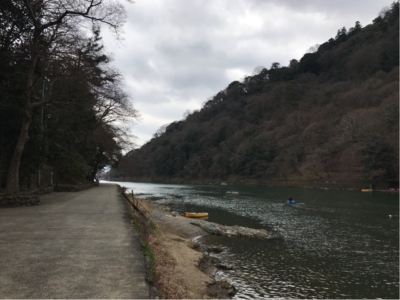 You can ride the boat or rent the boat if you want. It'll cost you ¥1500 to rent a boat, with the maximum passenger of 3 peoples. It'll cost you ¥3500 if you choose to ride the boat just like in the picture below.


You can pay the boat rental fee near the boat parking lot.


So, what are you waiting for? Let's go to Kameyama Park!
The post Kameyama Park, The Other Face of Arashiyama appeared first on Halal Media Japan | Latest halal news, travel guides & maps of Japan.